DURA-BOX
DURA-BOX Poultry Chick Boxes nest, stack, and are compatible with most other chick boxes. More open areas provides better ventilation, while added plastic in critical areas reduces breakage. DURA-BOX is manufactured from high-grade virgin polyethylene material providing superior impact and wear resistance. State-of-the-art manufacturing provides our chick boxes at a better price.
BIO-PRUF Anti-Microbial Protection
Laboratory tests of Salmonella, E.Coli, Staph and Pneumonia cultures demonstrated a clear difference between untreated samples and those treated with BIO-PRUF Anti-Microbial Protection, which inhibited the growth of bacteria.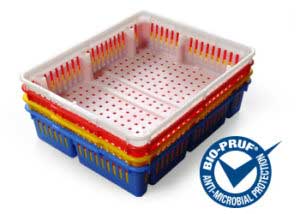 Specs
Model
Size (W x L x H)
Weight
Colors
in.
cm
lbs.
kg
DBX (Paperless)
25.63″ x 19.88″ x 6.13"
65.09 x 50.17 x 15.56 cm
3.1 lbs.
1.41 kg
White, Blue, Red, Yellow, Custom*
DBX-P (Paper Required)
25.13″ x 19.31″ x 6.06"
63.82 x 49.06 x 15.40 cm
2.85 lbs.
1.29 kg
White, Blue, Red, Yellow, Custom*
*Custom colors available for qualifying orders.
Pro Tips
The experts at DuraPlas have put together some Pro Tips to help improve
your operation and get the most out of your equipment.
Have Questions? Ask Matt!
DuraPlas Poultry & Egg expert Matt Porter is here to answer your questions.
What material is used to make your chick boxes?
"Dura-Box is made out of a high-impact virgin polyethylene plastic. This give us superior impact and wear resistance compared to other products in the market."

-Matt
Will your chick boxes work with the ones I already have?
"Our chick boxes are designed to be compatible with some other boxes on the market. Reach out to me to find out if Dura-Box will work with what you have."

-Matt
How long does the Bio-Pruf last in the chick box?
"The Bio-Pruf Anti-Microbial Protection is added to the material during manufacturing and should last for the life of the product."

-Matt
Got a question for Matt?