DURA-FLAT
DURA-FLAT Poultry Egg Flats are easy to handle and provide maximum protection against breakage and contamination. High-impact virgin plastic material is used to create a product with superior impact and wear resistance, along with improved rigidity.
Manufactured with additional plastic in critical areas to prevent breakage, DURA-FLAT offers a design that is lighter weight with improved stackability. The DURA-FLAT 84 count Hatchery Transport Flat is the efficient way to safely transport eggs long distances.
Designed to be compatible with Jamesway's SST System and help you double your egg capacity per truck compared to traditional farm rack. We manufacture 36, 42, & 84 egg flats designed to work with Jamesway Incubators as well as other models. We also manufacture a 54 & 165 egg flat designed to work with Chick Master Incubators. We manufacture the best quality products at the best price.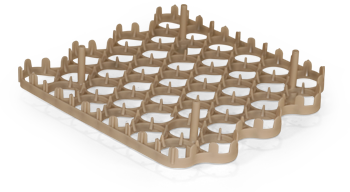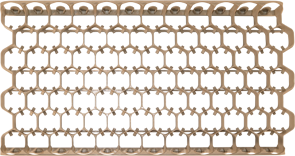 Specs
Model
Egg Capacity
Size (W x L)
Weight
Compatibility
in.
cm
lbs.
kg
DF-36
36
11.47″ x 11.47″
29.13 x 29.13 cm
0.36 lbs.
0.16 kg
Jamesway
DF-42
42
12.13″ x 11.56″
30.82 x 29.36 cm
0.42 lbs.
0.19 kg
Jamesway
DF-54
54
12.18″ x 14.95″
30.93 x 37.97 cm
0.85 lbs.
0.39 kg
Chick Master
DF-84
84
11.50″ x 23.50″
29.21 x 59.69 cm
1.11 lbs.
0.50 kg
Jamesway
DF-84 HTF
84
11.875″ x 23.5″
30.163 x 59.69 cm
1.11 lbs.
0.50 kg
Jamesway
DF-165
165
12.06″ x 45.88″
30.63 x 116.52 cm
2.9 lbs.
1.32 kg
Chick Master
Pro Tips
The experts at DuraPlas have put together some Pro Tips to help improve
your operation and get the most out of your equipment.
Have Questions? Ask Matt!
DuraPlas Poultry & Egg expert Matt Porter is here to answer your questions.
Will your egg flats fit in my buggies and racks?
"Our flats are designed to work with Jamesway and Chickmaster compatible equipment."

-Matt
Can I order different colors of the egg flats?
"Our standard color for the flats is our tan color, but custom colors would be possible for qualifying quantities."

-Matt
Got a question for Matt?