DURA-TRAY
Made from high-grade virgin polyethylene material, DURA-TRAY Poultry Hatch Trays provide superior impact, wear resistance, along with improved rigidity. Added plastic in critical areas helps prevent breakage. DURA-TRAY is specially designed to be lighter weight and offer improved stackability. Diamond shaped openings in the bottom are 15% larger than leading competitor for improved cleanability. DURA-TRAY Poultry Hatch Trays are designed to work with Jamesway & Chick Master hatchers as well as other models. All models will cycle through Embrex equipment.
BIO-PRUF Anti-Microbial Protection
Laboratory tests of Salmonella, E.Coli, Staph and Pneumonia cultures demonstrated a clear difference between untreated samples and those treated with BIO-PRUF Anti-Microbial Protection, which inhibited the growth of bacteria.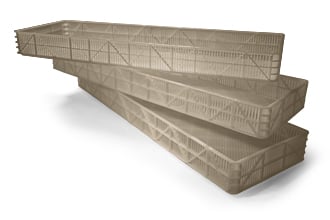 Specs
Model
Size (W x L)
Weight
Egg Capacity
Compatibility
in.
cm
lbs.
kg
DT168
49.25″ x 15″ x 4.75″
125.09 x 38.10 x 12.06 cm
6.2 lbs.
2.81 kg
168
Jamesway
DT165
48.5″ x 16.69″ x 4.63″
123.19 x 42.39 x 11.76 cm
6.33 lbs
2.87 kg
165
Chick Master
Pro Tips
The experts at DuraPlas have put together some Pro Tips to help improve
your operation and get the most out of your equipment.
Have Questions? Ask Matt!
DuraPlas Poultry & Egg expert Matt Porter is here to answer your questions.
Will your hatch trays stack with my current ones?
"Our trays are designed to be compatible with the Jamesway and Chickmaster hatching trays."

-Matt
How long does the Bio-Pruf last in the hatch tray?
"The Bio-Pruf Anti-Microbial Protection is added to the material during manufacturing and should last for the life of the product."

-Matt
Got a question for Matt?