DURA-BENCH Meets the Needs of a North Texas Nursery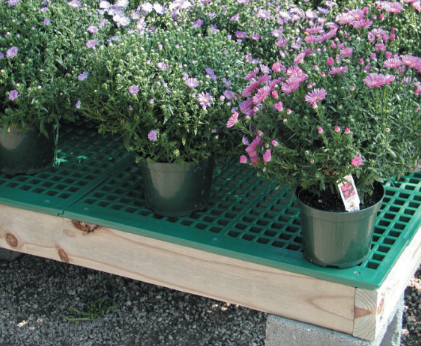 Father knows best. At least that's what Michael Nack decided when he asked his Dad whether he should buy DURA-BENCH bench tops for his Denton, Texas, nursery. In this case, his dad was a thermo-plastics engineer who understood the advantages the DURA-BENCH bench top provided over traditional wood and steel platform surfaces.
Nack also based his decision on his own experience. He has worked in the retail and wholesale nursery business for 21 years, so he's a veteran when it comes to organizing and displaying nursery products. His Four Seasons nursery moves more than $500,000 worth of nursery products annually.
COLORS AND CONFIGURATIONS HELP MOVE PRODUCTS
"We choose the DURA-BENCH product primarily because it provided us with a lot of flexibility to create our display areas, plus, the color scheme matched the look and feel we want for our nursery," says Nack.
Nack has four L-shaped displays in each of the primary corners of his nursery and a larger runway display in the middle. He uses wooden legs and frames for each platform. Because the DURA-BENCH platforms are lightweight and easy to disassemble and reassemble, he can easily change the configurations to match his display needs. If certain products are moving faster or slower than others, he reconfigures the 2'x4′ sections into more appropriate displays.
DURABLE, WASHABLE AND AFFORDABLE
Nack says the PORTABILITY and DURABILITY of the DURA-BENCH are definite advantages over traditional wood and steel displays. "The DURA-BENCH modules can be disassembled and stored more easily than plywood sections or steel plates, which might collect fungus or moisture if stacked for long periods." The DURA-BENCH product CLEANS EASIER than wood or steel, and isn't weakened by the daily plant watering or by the water and bleach mixture the Four Seasons team uses to clean bacteria from the platforms. Plus, the grate-like structure of the bench tops allow the water to drain off more easily than with solid platform surfaces. "In a high-volume nursery, bacteria builds up on the display platforms in a short span of time. The water and bleach mixture kills the bacteria, but it can damage wood platforms and cause them to rot faster or accelerate the development of rust or corrosion on wire and steel display tops."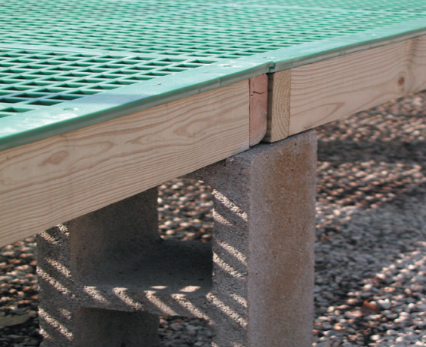 Nack also says the DURA-BENCH platforms are almost self-cleaning, since the platforms have SMOOTH, non-porous surfaces. "The dirt doesn't stick very well, so it takes so little effort to clean them." Nack has converted about 60 percent of his display sections to the DURA-BENCH product and will complete the conversion by the end of the year.
"This is a great product for us. It doesn't get hot like steel, so it won't burn customers or workers who have to move the sections. Even with our extreme Texas weather — hot for nine months and cold for three — the DURA-BENCH sections WON'T CRACK OR CHIP. Unlike wood, it WON'T SPLINTER and ISN'T ROUGH TO TOUCH. The color and anti-bacterial elements are throughout the sections, so they won't fade or weaken. It's also not as heavy as steel, so it's easy to move around, but still STRONG enough and TOUGH enough to bear up under the weight of very heavy pots and the constant scraping from sliding pots and racks across them." As for cost, Nack believes the DURA-BENCH product costs about the same as wood or steel, and has many more advantages and no disadvantages in comparison.
As the story goes, father does know best. Both father and son are thrilled about using DURA-BENCH throughout their nursery.
The DURA-BENCH plastic bench tops are available in dark green and black, and custom colors are available. Each 2'x4′ panel weighs 8.1 lbs. DURA-BENCH is made of polypropylene material that is impact and wear resistant. The bench tops are treated to resist damage from the sun and contain anti-bacterial additive throughout the product – the UV protection and anti-bacterial protection won't wear off, even if the product is scratched or marred. Pre-drilled construction holes mean the sections can be quickly assembled and disassembled without damaging the bench top.
For more information on DURA-BENCH bench tops, go to duraplasinc.com, or call (800) 527-0657. DURA-BENCH is manufactured by Dallas-based DuraPlas.