Dallas-based Nursery Says Pursuing Excellence Meant Installing DURA-BENCH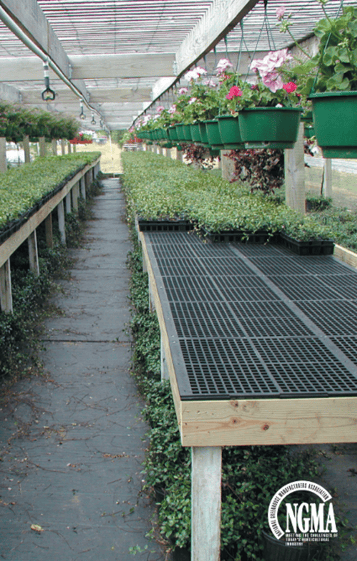 For most business owners, doing things half way is no way to do business. That's certainly true for the owners of Wilson's Nursery and Christina's Flowers, the wholesale and retail ends of a $3.2 million nursery operation in Dallas, Texas. Kelsey London, the manger for both businesses, said that perspective is what drove the decision to install DURA-BENCH at their retail location in Dallas, as well as their growing farm in Pottsboro, Texas.
"We chose the DURA-BENCH product because we wanted smoother, more professional looking benches for displaying plants to our customers. The DURA-BENCH panels don't splinter or have rough edges or broken sections that traditional wood, wire or mesh tops do, which could potentially injure employees or customers," said London.
"We have more than 15,000 flats on display at our growing farm, mostly English Ivy and Asian Jasmine in 4-inch pots. We configured all of our benches using DURA-BENCH bench tops and essentially the same bases we had used previously. The plastic sections were LIGHT WEIGHT and EASY TO PUT TOGETHER. It didn't require much in the way of extra attention or resources and it cost the same as wood."
For the retail and wholesale operations, London said they use the DURA-BENCH tops to display flowers and one-gallon plants, mostly lining fences with the tables and creating natural aisles that make it easier for customers to browse. London said they appreciate the fact that the panels DON'T FADE, so the display areas look consistently good. The DURA-BENCH product is also infused with anti-bacterial and anti-microbial agents that inhibit growth of diseases and mold that could damage the plants. "We know that the DURA-BENCH panels have already paid for themselves after one year," said London. "We typically replace one or two broken or rotted wood flats every year, plus the bases. We expect the DURA-BENCH panels to last a long, long time, plus they add some degree of structural strength to frame structure itself.
"I know replacing a few 1″ x 4″ or 2″ x 6″ panels doesn't sound like a big deal, but any time not spent thinking about customers or meeting with customers is time we don't use to build relationships, and that's what we thrive on, building relationships with retail and commercial customers who depend on us to have time to talk with them. That's the difference we offer and the experience people expect when they come here, versus one of the large home center stores."
The DURA-BENCH top comes in 24″ x 48″ green or black panels. Designed to replace traditional wood, metal and wire bench top, the DURA-BENCH panels offer a tougher, longer lasting growing surface while eliminating problems associated with other bench top materials. For more information on the DURA-BENCH product, call 800-527-0657 or visit duraplasinc.com.