YELLOW JACKET PLASTIC RACK PROTECTORS
YELLOW JACKET is a state-of-the-art modular rack armor system that is as flexible as you need it to be. Available in two profiles to fit 3″ x 3″and 3″ x 1-5/8″ rack uprights. Each 9″ tall YELLOW JACKET section is stackable, allowing you to determine the optimal amount of protection for your warehouse racks and equipment. YELLOW JACKET is specially designed to utilize tension to lock into place and includes a secure strap to keep it fastened to the rack. With YELLOW JACKET, it's easy to avoid expensive replacements while protecting your warehouse racks and inventory.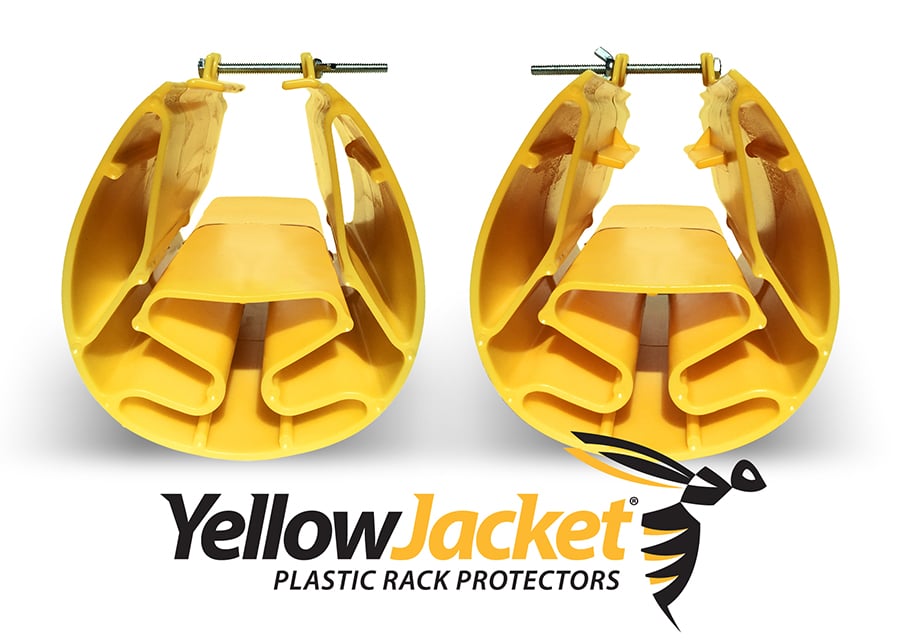 REDUCES DAMAGE TO RACKS FROM FORK LIFTS
IMPROVES EMPLOYEE SAFETY
EXCEEDS FEM 10.2.02 IMPACT TEST
SAVES MONEY, LABOR & REPLACEMENT RACK COSTS
QUICK & EASY TO INSTALL / NO TOOLS NEEDED
SNAPS IN PLACE / GRIPS RACK SECURELY
STACKABLE FOR EXTRA PROTECTION
2 PROFILES: FITS EITHER 3″x 3″ OR 3″ x 1-5/8″ RACK LEGS
INCLUDES SECURE STRAPS
Videos
Watch our Yellow Jacket Rack Protectors in action! This video will give a glance into the ease of installation and protection against forklift impacts.
Made from high density virgin polyethylene, YELLOW JACKET Rack Protectors exceed FEM10.2.02 impact test requirements – providing the strength and durability necessary to protect your rack systems. YELLOW JACKET Rack Protectors are made in the USA and are available in two models / sizes. The YJ-3×1-5/8 fits standard 3″ x 1-5/8″ racks, and YJ-3 x 3 fits a standard 3″ x 3″ rack. Stacking two 9″ YELLOW JACKETS (18″ total coverage) provides more protection than the industry required 400mm or 15.74 inches.
ORDERING AND PRICING
YELLOW JACKET Rack Protectors are in stock and ready for shipping from our warehouse in Dallas, TX. Our rack protectors provide an inexpensive method for protecting your racking system from damage caused by fork lifts. For a free sample visit our contact us page or fill out the sample request form.
INSTALLATION
Latch tab behind back corner of rack leg. Stretch YELLOW JACKET around rack leg. Press center of YELLOW JACKET down, pushing tab over opposite corner of rack. Rotate Yellow Jacket around rack leg. Snap tab securely over back corner and apply secure strap.
FEM 10.2.02 IMPACT TEST
Dallas Laboratories, Inc. conducted independent testing on YELLOW JACKET Rack Protectors using the FEM 10.2.02 code. This is the European code for protection from damage caused by forklifts or other moving equipment to upright racks. The independent lab has confirmed that YELLOW JACKET Rack Protectors exceeds the FEM 10.2.02 impact test requirements – providing the strength and durability to protect your rack systems.