Your place, your turkey? 65% of Americans say the holiday host should make the main course
Americans value homemade dishes, high quality ingredients, and alternating annual hosting duties for holiday feasts, study finds
Purpose of this Study
As the winds turn crisper, the temperatures turn cooler, and everything becomes pumpkin spiced, many of our thoughts move to football, family, and … food.
There really isn't another season that's as closely tied to eating than the fall. We give out candy at Halloween, the centerpiece of Thanksgiving is a holiday feast, and edible treats have been a highlight of Christmas for generations.
But how do those foods get to our tables? What percentage of those meals are homemade versus store-bought? How many of our favorite dishes do we only have this time of year? How was that turkey sourced? How many hands touched those cranberries before they became sauce? The team at Duraplas wanted to learn how the average American approaches preparations for holiday meals—their shopping habits, hosting habits, and meal preparation habits—in order to highlight the many different paths and processes that precede these unifying holiday feasts we look forward to each year.
We asked 600 U.S. adults via third-party survey platform Pollfish, about their holiday meal plans—including shopping, hosting and culinary habits. Here's what we found.
Key Findings
Americans put a slight priority on their menu rather than their pocketbook, being willing to spend more for specific ingredients they need to make the meal a success.

If you're hosting, the responsibility for the main dish is yours.

Americans pride themselves on the care with which they prepare holiday meals: nearly half of those surveyed said that their holiday meals are 100% homemade

Americans are equally split on whether they want to host or would prefer to be hosted for holiday meals, with some differences emerging depending on age
The humble potato beats all: 93% of those polled reported that mashed potatoes are the preferred "from scratch" dish.
We think more about the quality of ingredients that go in our holiday meals than their cost.
Most Americans are less budget-vigilant when it comes to their holiday meals, indicating that the communal benefits of shared holiday feasts outweigh the potential financial pinch (and, perhaps, waistband pinch!) felt in their aftermath.
65% of people say they think more about the ingredients they choose for holiday meals than other meals.

86% of people would at least consider paying more for premium items for their menu
There were some notable generational differences in attitudes toward splurging for holiday ingredients, with older Americans displaying even higher levels of willingness to prioritize menu over cost; 55% of people 54 and older said that cost wouldn't affect their menu.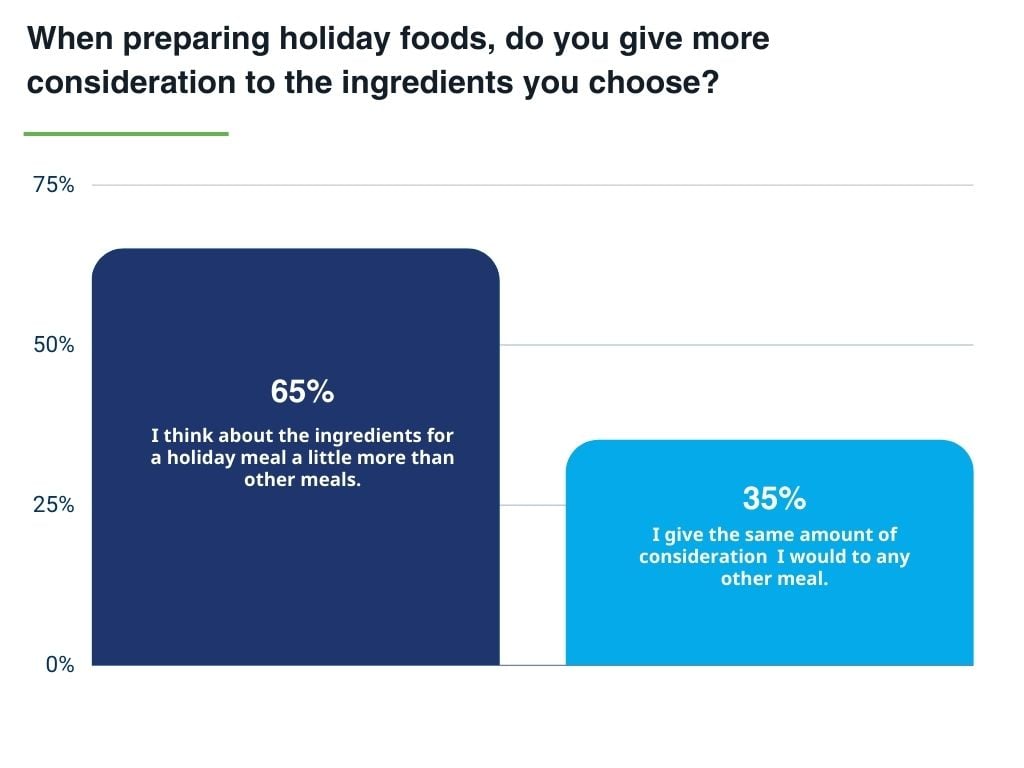 In terms of prioritizing where items are sourced from, most people indicated that their interest in item quality depends on how essential that item is in the final production of the holiday meal. A segment of the population holds sustainability as a value while selecting foods in general, keeping in pace with a growing global awareness towards food systems and production cycles; while a small portion of those polled indicated that budgeting will always remain the main consideration while food shopping.
Over a quarter of those polled – 26.5% – cited sustainability as a staple criterion while shopping for food items

59% said that purchasing costlier, sustainably sourced items depends on the item

14.5% said that price will always be the top priority when selecting food items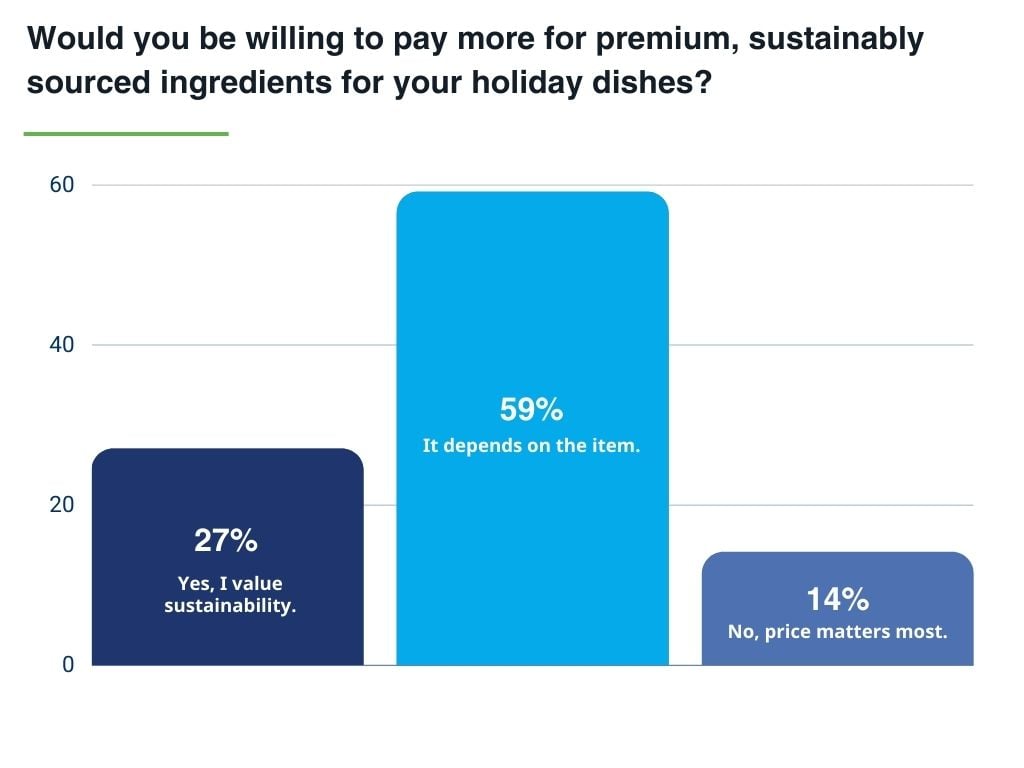 These findings indicate that most Americans make budgeting exceptions when shopping for holiday meal items, and a growing portion of the population is becoming more source-and-sustainability minded as they gather the ingredients needed to create their annual holiday feasts.
"People naturally think more about food during the holidays, because food is a huge part of familial and emotional currency – it's a central element in the way most of us celebrate our favorite holidays with loved ones," DuraPlas President Paul Phillips said. "With this survey we wanted to see exactly how Americans are thinking about food as they shop for holiday meal ingredients. We found that for most people, holiday food shopping is motivated by the desire to create an experience, and that that desire takes precedence over maintaining a strict food shopping budget. Younger Americans enjoy hosting their older counterparts for holiday meals, and they also tend to be more conscientious about the farm-to-fork process that's involved in the preparation of a holiday feast. This was heartening to see, given that our foods come to us from so many different sources, similar to how we approach the holiday table from so many different places. . . The foods we share together unify us in meaningful ways and it's well worth taking a pause to consider the journey behind that delicious pumpkin pie nobody can get enough of."
Hey, Millennials. Mom and dad are ready for you to host the holiday meal. More than 60% of Americans over 54 would prefer to be hosted at the holidays.
Boomers and Gen X can bring along the fancy rolls and artisan cranberry sauce (more than 60% of those polled said they typically purchase rolls as opposed to making them from scratch and more than 76% said they purchased cranberry sauce,) and then kick back and relax: Millennials are happy to host.
56% of people 25 to 34 say they'd prefer to host holiday meals

52% of people 45 to 54 would prefer to be hosted

61% of people 54 and older would prefer to be hosted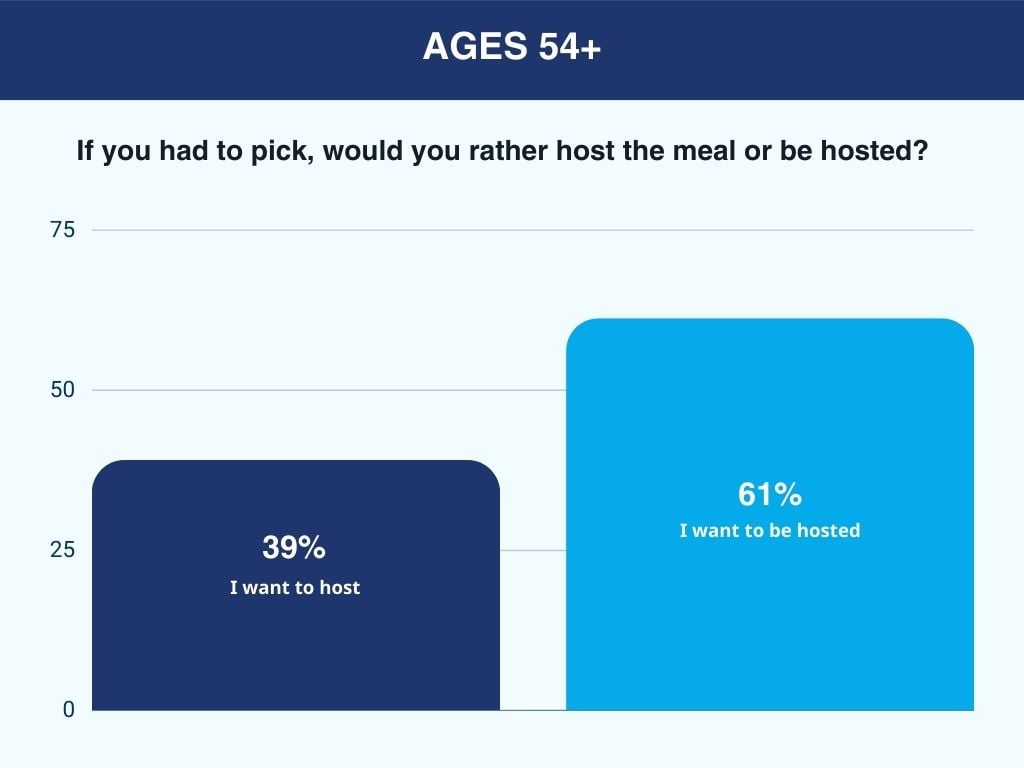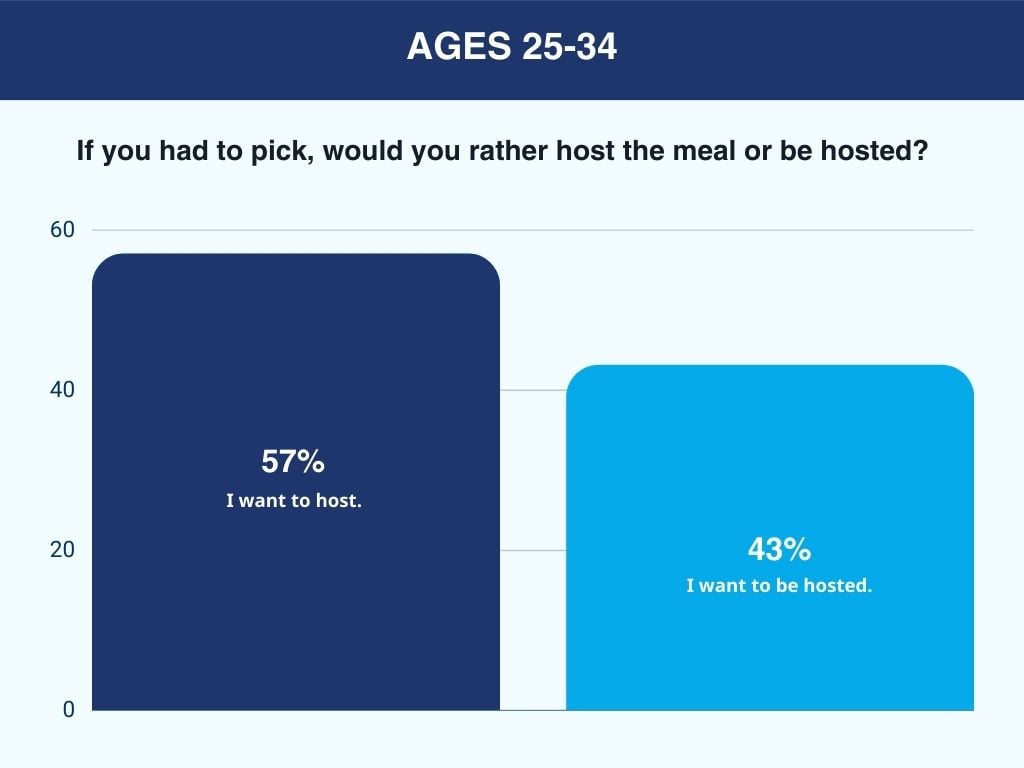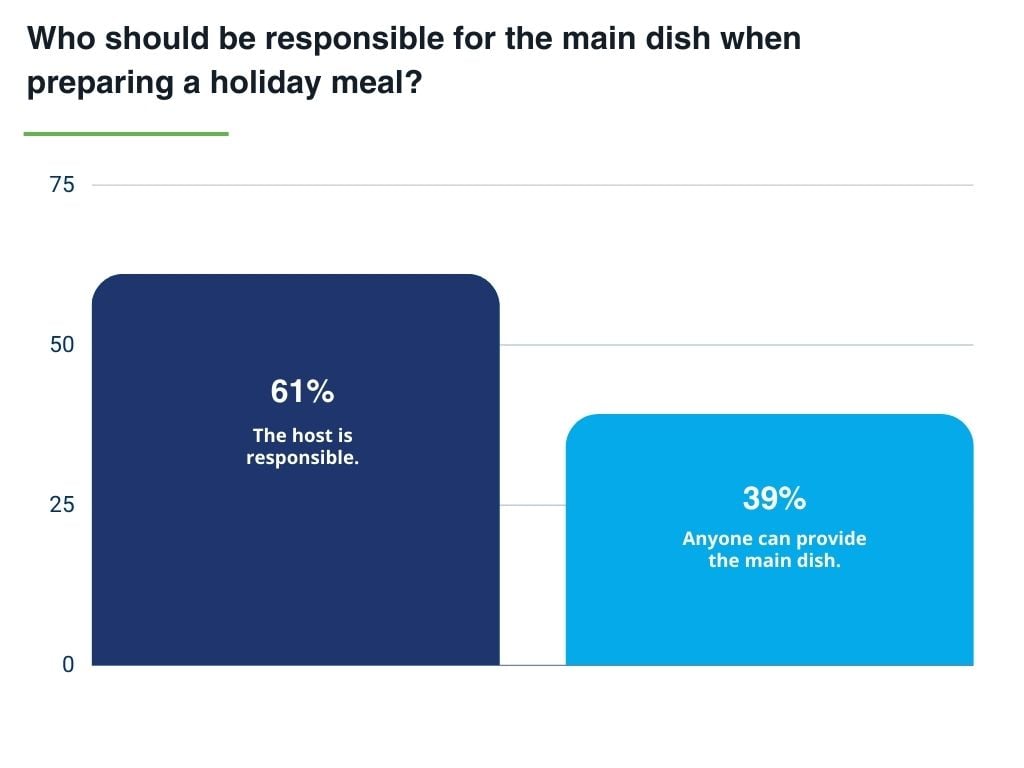 We mostly agree on what's a holiday staple, and we prefer to make those at home.
We asked the people we surveyed about their most commonly homemade dishes, and found that hearty, carb-heavy dishes were the winners (with a side of salad).
The most common homemade dish was mashed potatoes, with nearly all of us making this one from scratch. Ninety-three percent of people make this one at home.

The second most commonly homemade food, even more common than turkey or ham, was mac and cheese with 81% of us preferring our own recipe to something store bought.

80% said stuffing/dressing is essential to their holiday table, and the same percentage listed turkey or ham as a feast fixture

Don't forget your veggies: 78% of those polled said that mixed salad—something that seemingly would taste similarly if store bought—is something they make at home.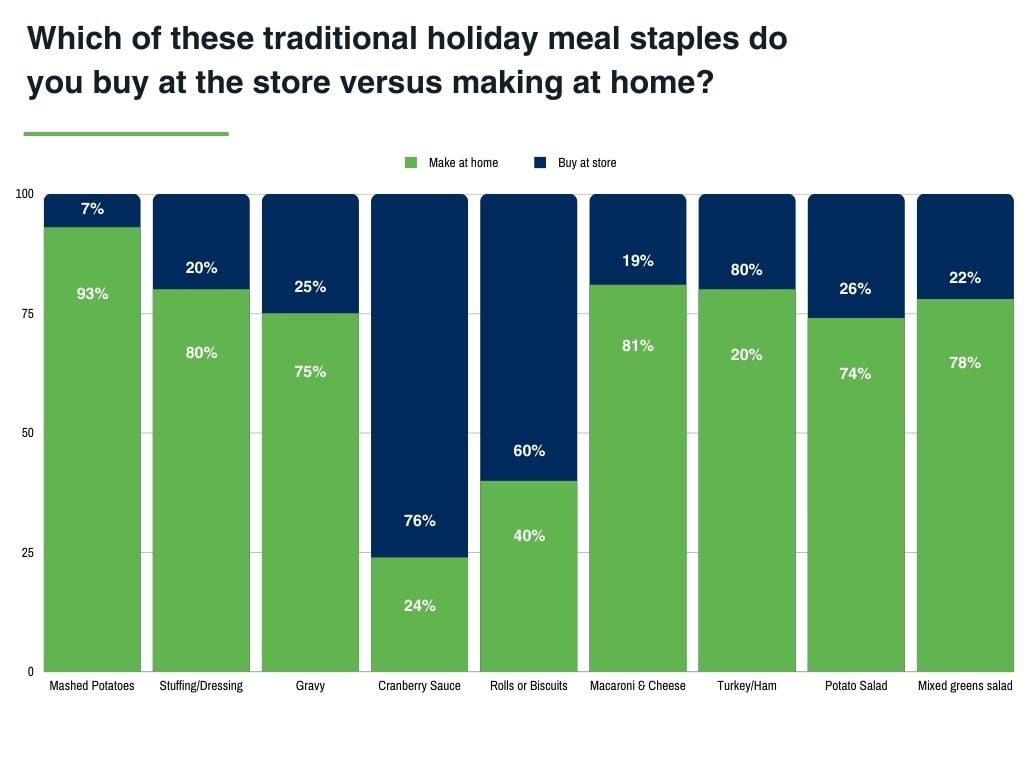 As for what we consider holiday staples, mashed potatoes, mac and cheese, and dressing or stuffing are more common on most plates than even turkey or ham.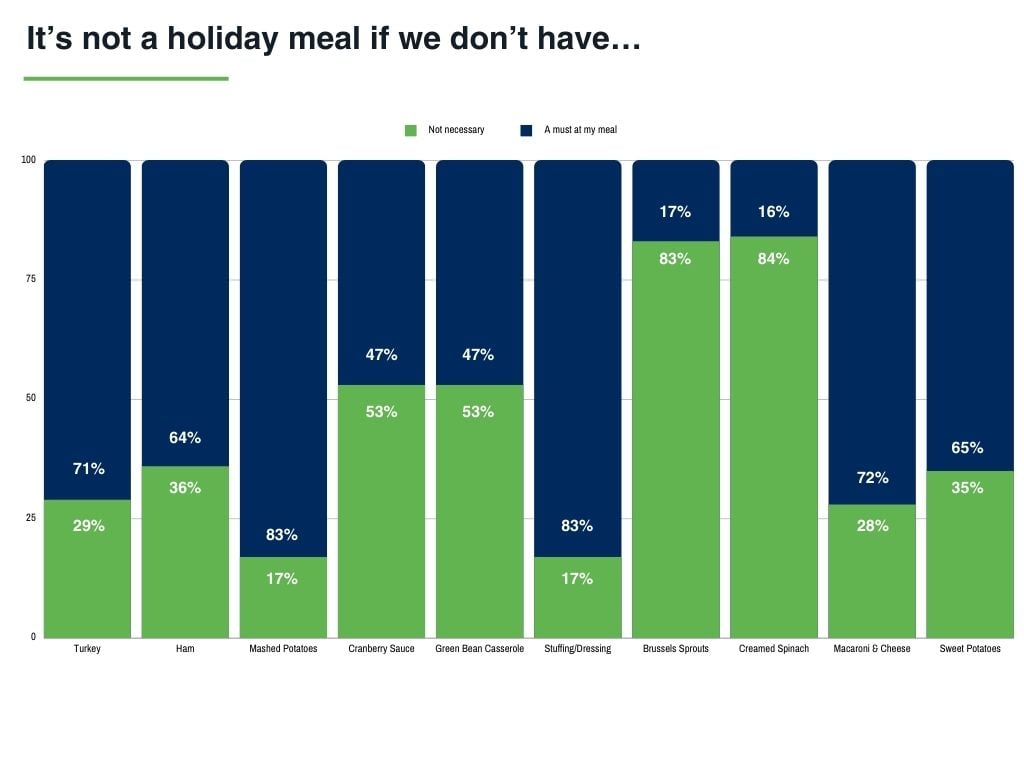 And for dessert: 60% of Americans buy two dozen more eggs at the holidays than at other times of the year.
We expected to find that people buy more in bulk over the holidays, but it was still interesting to hear that over half of the Americans we surveyed – a full 60% – buy at least two dozen more eggs than usual during the holidays. There are a lot of cookies, cake, and pies to bake, afterall.