KENNEL-TUFF Plastic Kennel Flooring
Made of high-impact polypropylene plastic, providing superior impact and wear resistance
Rust, rot, and corrosion resistant
Non-porous surface features square openings .875″ x .875″ or 1.1″ x 1.1″
Smooth surfacing reduces pad problems and inhibits the growth of bacteria
Designed to withstand high-pressure washing and disinfectants
Withstands up to 630 lbs of pressure before the screw heads fail
Most plastic kennel floors are manufactured outside the United States. DuraPlas manufactures in Dallas, TX and has over five decades of experience in manufacturing plastic products for the agricultural industry. Let us provide a clean, comfortable floor that keeps your animals happy and healthy.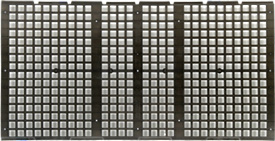 Specs
Model
Size (W x L)
Surface Opening
Weight
in.
cm
in.
cm
lbs.
kg
KT24X48 (Non-Overlap)
24.125″ x 48.25″
61.28 x 122.56 cm
.875″ x .875″
2.22 x 2.22 cm
8.2 lbs.
3.72 kg
KT24X60
24″ x 60.254″
60.96 x 153.04 cm
1.1″ x 1.1″
2.79 x 2.79 cm
7.52 lbs.
3.42 kg
Have Questions? Ask Chris
DuraPlas Kennel expert Chris Hiser is here to answer your questions.
How big do the dogs feet need to be to walk on the floor?
"This can depend in every case, but majority of our kennel floor panels are designed for large breed dogs. The flooring with the 1.1" holes is not recommend for puppies."

-Chris
Can the flooring be cut to fit my kennel?
"The Kennel Tuff panels can be cut with any tool that can cut wood."

-Chris
How do I locate a distributor?
"Please call 1-(800) 288-9748 or email info@duraplasinc.com to talk to a representative about locating a distributor near you."

-Chris
Got a question for Chris?