DURAPLAS Egg Transport System
The DURAPLAS Egg Transport System allows you to move eggs safely and efficiently, providing maximum egg protection while reducing the number of hairline cracks. Made from high-impact plastic, the DURAPLAS Egg Transport System provides superior impact and wear resistance. DURAPLAS' smooth non-porous surface is easy to clean and fast drying, minimizing risk of contamination.
The three-part interlocking system can be customized to meet your needs, securely carrying up to 12,960 eggs per pallet. Each system is constructed of a Pallet Base, up to five Dividers and nesting stacks of 30-Cell Egg Trays.
The DuraPlas Egg Transport System is designed to be compatible with automated equipment and interchangeable with other egg transport systems. Our 30 Count Egg Trays can handle medium, large and extra-large eggs up to 90 grams. DuraPlas pallet bases feature our innovative Flow-Thru system, specially designed to allow automated cleaning systems access to areas that can trap egg matter and bacteria in traditional, closed pallets. Flow-Thru pallet feet are available in a wide range of stock colors, with custom colors available on qualifying orders.
BIO-PRUF Anti-Microbial Protection
DURA-PLAS Egg Trays feature BIO-PRUF Anti-Microbial Protection. Laboratory tests of Salmonella, E.Coli, Staph and Pneumonia cultures demonstrated a clear difference between untreated samples and those treated with BIO-PRUF Anti-Microbial Protection, which inhibited the growth of bacteria.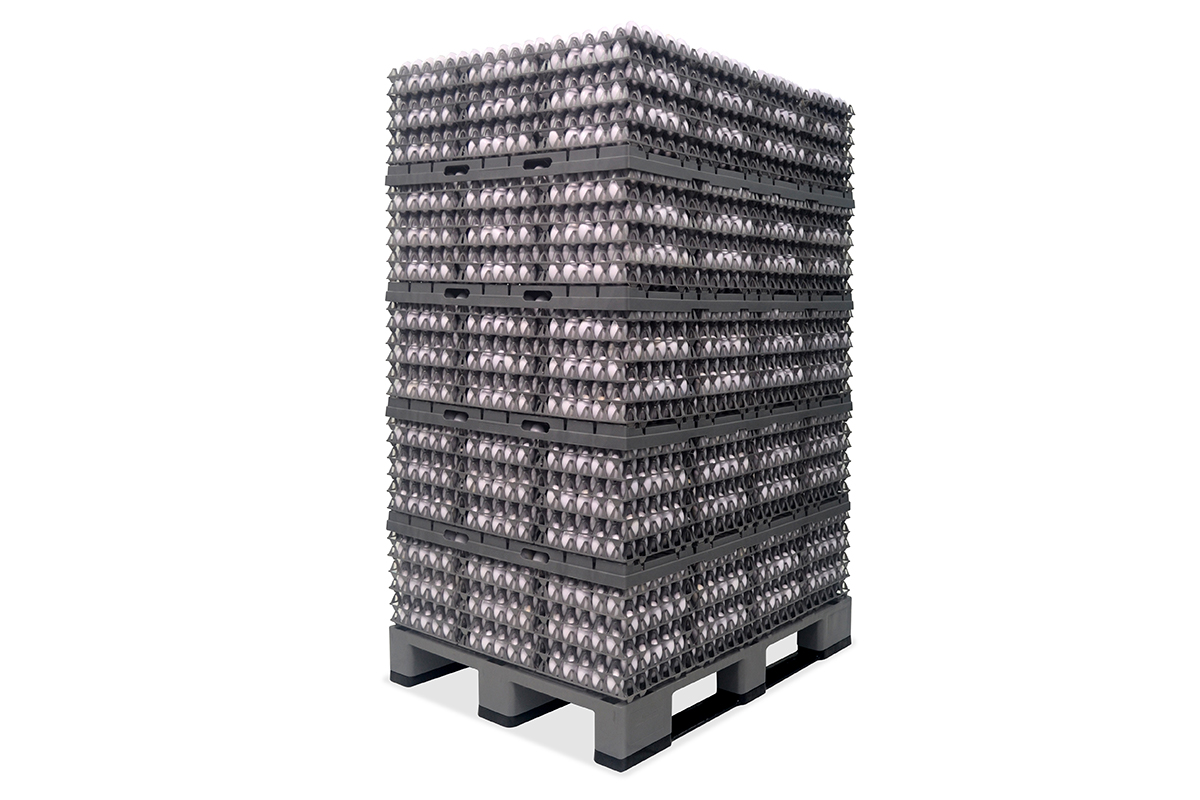 Specs
Egg Transport Pallets
Model
Size (W x L x H)
Weight
in.
cm
lbs.
kg
Egg Transport Pallet
35.43" x 47.24" x 6.30"
90 x 120 x 16 cm
38.90 lbs.
17.64 kg
Egg Transport Divider
Model
Size (W x L)
Weight
in.
cm
lbs.
kg
Egg Transport Divider
35.43" x 47.24"
90 x 120 cm
8.90 lbs.
4.04 kg
30-Cell Egg Tray
Model
Size (W x L)
Weight
Capacity
in.
cm
lbs.
kg
30-Cell Egg Tray
11.81" x 11.81"
30 x 30 cm
.30 lbs.
.14 kg
30 eggs/tray;
6 trays/stack
Pro Tips
The experts at DuraPlas have put together some Pro Tips to help
improve your operation and get the most out of your equipment.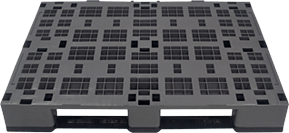 PALLETS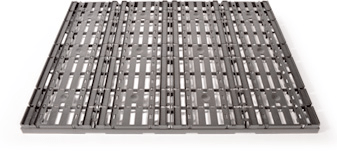 DIVIDERS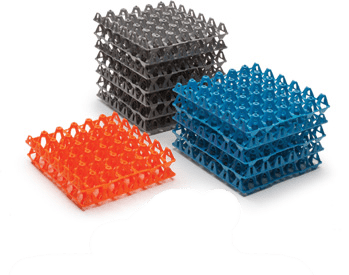 30-CELL EGG TRAYS
Have Questions? Ask Matt!
DuraPlas Poultry & Egg expert Matt Porter is here to answer your questions.
How high can I stack the egg trays?
"In the standard application, the egg trays are designed to be stacked 6 high."

-Matt
What is the largest egg that I can put in your egg tray?
"The DuraPlas 30-Cell Egg Tray is manufactured to hold a Jumbo egg."

-Matt
How heavy is the DuraPlas system when it is empty?
"Depending on the egg capacity, the full system weight can range from approximately 150 lbs to approximately 210 lbs. The system with the capacity of 10,800 egg weighs approximately 180 lbs when empty."

-Matt
Will your trays interchange with others on the market?
"It is possible for the DuraPlas Dividers and 30-Cell Egg Trays to work in conjunction with some other similar products on the market."

-Matt
Got a question for Matt?